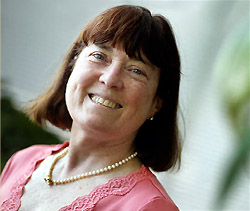 </p>
Lynden Beesley was raised in Surrey England. She developed a love for art from an early age. In 1975, she immigrated to Canada with her husband and two daughters. For twenty years, she practiced podiatry in Winnipeg. In 1997, Lynden moved to Eastern Ontario to formally pursue a career in art at Queen's University. She graduated in 2001 with a Bachelor of Fine Arts specializing in printmaking and sculpture.
Lynden is an interdisciplinary artist based in the Okanagan. She is active within the art community. Currently Lynden is a member of the Kelowna Sculptors Network Society, Canadian delegate to FIDEM, and a member of the Ars Longa artists group with whom she exhibits regularly. Her work is produced at her home studio, Pyramid Bronze works and Malaspina Printmakers, Vancouver.
Recent solo gallery exhibitions have been in Merritt, Kelowna, Salmon Arm, Vernon, Summerland, Kingston, Ontario, Glasgow Scotland, Tampere Finland, Colorado Springs USA and Sofia Bulgaria.